'Twilight" fans tuning into Sunday's 2009 MTV Video Music Awards thirsting for a glimpse at the film's stars, also got a surprise taste of the next film to come.
"Twilight's" toothsome love triangle – Taylor Lautner (Jacob), Kristen Stewart (Bella) and Robert Pattinson (Edward) – presented an extended trailer for "New Moon" during Sunday night's show, which now has launched a fan frenzy.
"Whether you're Team Jacob or Team Edward, we want to thank you for your undying support over the past year," Stewart said, sporting a strapless Valentino minidress and Rock & Republic heels.
"For tonight, we're bringing you and only you a first look at a movie we've been working on for months," Pattison said.
And Lautner, dressed smartly in a Calvin Klein suit, wrapped with, "Just for the MTV Video Music Awards, this is the extended trailer of 'New Moon.'"
The audience learns along with Bella that vampires have laws, and they are enforced by the elite Volturi.
It seems Edward's relationship with Bella has put him in some seriously hot water with the vampire royalty.
Bella also becomes a bit self-destructive, and one of her adrenaline-junkie stunts leaves her undead lover convinced that his human paramour is dead, with near-tragic results.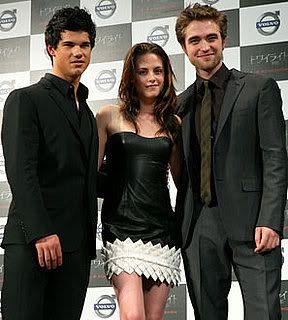 "New Moon," the second film in the vampire romance saga, hits theaters on Nov. 20.
-NY Dailynews.com
For those of you out there who read the Twilight Series Nov. 20th can't get here soon enough. Presale tickets are already almost SOLD out and the film is still 9 weeks away from being released!! I am personally really impressed with the new director. This film seems to be done alot better and more close to the book than "Twilight", which is definatly what fans are looking for. It will be very interesting to see how the whole thing turns out!
-Nat